The Fifth Dzogchen Drubwang Tubten Chokyi Dorje

This post has read 1033 times.
The Fifth Dzogchen Drubwang Tubten Chokyi Dorje (rdzogs chen grub dbang 05 thub bstan chos kyi rdo rje) was born in 1872 near Chamdo (chabs mdo) in Kham.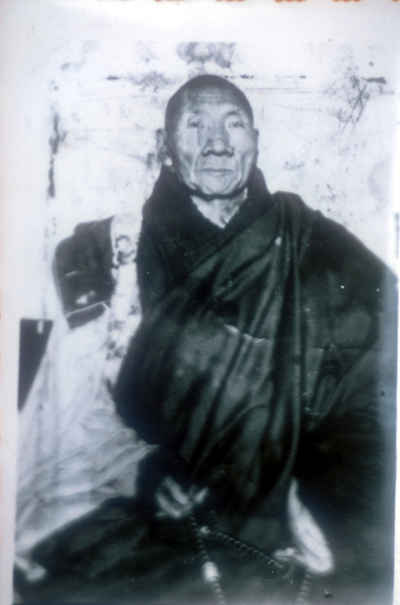 His father's name was Gonpo Gyel (mgon po rgyal) and his mother was called Sonam Yangtso (bsod nams g.yang mtsho). They gave him the name Tashi Ngotsar (bkra shis ngo mtshar).
Before the age of four he was recognized by Jamyang Khyentse Wangpo ('jam dbyangs mkhyen brtse' dbang po, 1820-1892) as the reincarnation of the Fourth Dzogchen Drubwang, Mingyur Namkhai Dorje(rdzogs chen grub dbang 04 mi 'gyur nam mkha'i rdo rje, 1793-1870) and enthroned at Dzogchen Monastery (rdzogs chen dgon) in the presence of Khyentse Wangpo, Shechen Pema Gyurme Gyatso (zhe chen pad+ma 'gyur med rgya mtsho, d.u.), Gyelrong Choktrul Kunzang Tekchok Dorje (rgyal rong mchog sprul kun bzang theg mchog rdo rje, d.u.) and others.
He received teachings and transmissions from some of the greatest masters of his day, including Dza Patrul Orgyen Jigme Chokyi Wangpo (rdza dpal sprul o rgyan 'jigs med chos kyi dbang po, 1808-1887), Jamyang Khyentse Wangpo, Ju Mipam('ju mi pham rgya mtsho, 1846-1912), Jamgon Kongtrul Lodro Taye ('jam mgon kong sprul blo gros mtha' yas, 1813-1899), Khenchen Pema Vajra (mkhan chen pad+ma badz+ra, c.1807-1884), and the Fourth Dzogchen Ponlop, Jigme Choying Osel (dpon slob 04 'jigs med chos dbyings 'od gsal). From these masters he received the three Yangtik cycles of the Dzogchen approach of utter lucidity ('od gsal rdzogs pa chen po yang thig skor gsum), Longchenpa's Three Cycles of Being at Ease (ngal gso skor gsum), the Dzogchen Yeshe Lama (rdzogs chen ye she bla ma), and so forth.
He dedicated his life to developing Dzogchen Monastery and its branches. He transformed the monastery's college,Śrī Siṃha (shrI sing+ha bshad drwa), into one of the most famous institutions of learning. He traveled widely across Kham and Amdo giving empowerments and teachings, and he participated in the recognition of most of the important Nyingma tulkus in Kham who were born in the last thirty years of his life, ordaining many of them. Among these wereNgawang Pelzang (ngag dbang dpal bzang, 1879-1941), whom he ordained in 1889. He also went to Lhasa, meeting with the Thirteenth Dalai Lama, Tubten Gyatso (ta lai bla ma 13 thub bstan rgya mtsho, 1876-1933) and sponsoring rituals at Samye Monastery and other holy sites there.
The Fifth Dzogchen Drubwang passed away in 1935 at the age of sixty-four.
Source: The Treasury of lives