39th descendant of Tenpa Tsering lineage

This post has read 834 times.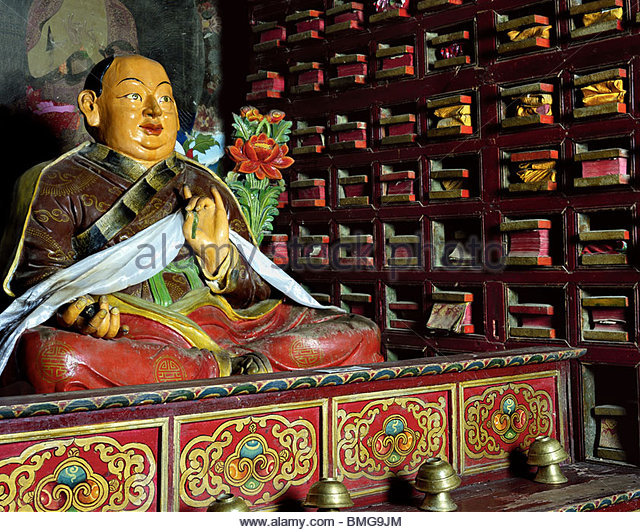 Tenpa Tsering (bstan pa tshe ring) was born in 1678, the earth-horse year of eleventh sexagenary cycle, in Dege (sde ge), Kham. His father was Wangchen Gonpo (dbang chen mgon po), the nominal king of the Dege royal family in the thirty-ninth generation. Real power had been held by Wangchen Gonpo's elder brother Sonam Puntsok (bsod nams phun tshogs, d. 1714), the fourth abbot of Lhundrubteng(lhun grub steng), the royal monastery of Dege. His mother was named Orgyen Tso (o rgyan mtsho).
As a youth he studied reading, writing, and medicine under his uncle Sanggye Tenpa (sangs rgyas bstan pa), the third abbot of Lhundrubteng and actual ruler of the kingdom. He also received teachings fromSanggye Puntsok (sangs rgyas phun tshogs, 1649-1705), who had served as the twenty-fifth abbot of Ngor Ewaṃ Choden Monastery (ngor e waM chos ldan) and who spent the last years of his life in Dege teaching and participating in early printing projects. Another Ngor chaplain, Tashi Wangchuk (bkra shis dbang phyug, d.1727), who replaced Sanggye Puntsok, supervised Tenpa Tsering's first printing projects, the carving of blocks for several Prajñāparamitā and the Avataṃsaka Sūtra. After Tashi Wangchuk passed away, Tenpa Tsering invited Tashi Lhundrub(bkra shis lhun grub, 1672-1739), the thirty-first abbot of Ngor, to Dege, where he completed the printing project.
Tenpa Tsering studied under a number of famous Nyingma teachers, includingTerchen Nyima Drakpa (gter chen nyi ma grags pa, 1647-1710) and the Second Dzogchen Drubwang, Gyurme Tekchok Tendzin (P677 rdzogs chen grub dbang 02 'gyur med theg mchog bstan 'dzin, 1699-1758).
In 1714, as he turned thirty-seven, he was enthroned to the abbacy of Lhundrubteng. His only brother, Gonpo Tsering (mgon po tshe ring), had died, and Tenpa Tsering was thus the first member of his family to hold both the abbacy of Lhundrubteng and serve as official head of state.
In his first year of office he welcomed the young Seventh Dalai Lama, Kelzang Gyatso (skal bzang rgya mtsho, 1708-1757), who was being taken from his birthplace in Litang (li thang) to escape assassination attempts by Lhazang Khan (P420 1697-1717), who was ruling central Tibet. The Dalai Lama had been invited to Dege by his uncle and predecessor, Sonam Puntsok. This act earned Dege the goodwill of the Ganden Podrang (dga' ldan pho brang) government in Lhasa, which aided in the establishment of formal ties with the Qing Empire, which was then expanding in Amdo.
In the 1720s, following the expulsion of the Dzungar Mongols from central Tibet, the Qing increased its claim over the whole of Tibet, stationing official representatives, or Amban, in Lhasa. Meanwhile Tenpa Tsering annexed seven neighboring regions, including Dzachuka (rdza chu kha), expanding Dege to its greatest size.
Tenpa Tsering entered into formal relations with the Qing Empire, submitting to the Qing Emperor Yongzong 雍宗 (r. 1723-36) in 1728. His name was recorded in court documents as Danbaceling 丹巴策淩. Tenpa Tsering received the initialtuguan rank of Dege Pacification Commissioner (De'ergete Anfu shi 德爾格忒安撫使). He was promoted in 1733 to Xuanwei shi (宣慰使). According to the Royal History of Dege he was also empowered as a general ruler of Kham and given a golden seal and five thousand measures of silver.
Following the 1728-29 civil war between the aristocratic oligarchs for control of Tibet, the victor in the struggle, Polhane Sonam Tobgye (pho lha nas bsod nams stobs rgyas, 1689-1747), insisted that the Seventh Dalai Lama be exiled from Lhasa, a consequence of his father's association with the opposing factions. The Qing, despite their official patronage of the Dalai Lama office, was forced to acquiesce, and a site on the edge of Kham, in Dege territory, was chosen. Gartar Monastery(mgar thar) was constructed at a cost of 14,000 by craftsmen from Chengdu as the residence for the exiled Dalai Lama. It included a dwelling for the special garrison watching over him and was called Huiyuan Miaoin (惠遠廟) in Chinese.
Several years earlier, the Eighth Tai Situ, Chokyi Jungne (ta'i si tu 08 chos kyi 'byung gnas, 1699/1700-1774), commonly known as Situ Paṇchen, returned from Nepal and Tibet and requested a location for a new monastic seat. Tenpa Tsering had first met the Eighth Situ in 1712, when his uncle Sonam Puntsok formalized the relationship between the Twelfth Karmapa, Jangchub Dorje (karma pa 12 byang chub rdo rje, 1703-1732) and the young Situ Paṇchen, both of whom had been born in Dege and required the king's permission to leave for their respective seats. The Dege court would keep a close watch over the Eighth Situ, requiring that he request permission for any travel outside of Dege.
Tenpa Tsering gave Situ Paṇchen the site of an earlier small Drigung Kagyu Monastery south of the capital city where he built Pelpung (dpal spung), which quickly grew into one of a major Karma Kagyu center. Thereafter he was frequently at court performing rituals for the royal family, including tantric empowerments from 1730 onward.
In 1729, Tenpa Tsering initiated a publishing venture that marks the founding of the Dege Printing House (sde dge par khang), one of the largest and most influential printing centers in the Tibetan cultural realm. Texts were carved in traditional Tibetan fashion onto rectangular wood blocks. First completed in 1733 was the Dege edition of the Kangyur (bka' 'gyur), the translations of the scriptures reputed to have been spoken by the Buddha, including sutra, tantra, Abhidharma, and Vinaya, in 103 volumes.
Situ Paṇchen was closely involved in its production, having traveled in Jang Satam ('jang sa tham) in 1730 where he no doubt consulted the edition of the canon that had been supervised by the Sixth Zhamarpa, Chokyi Wangchuk (chos kyi dbang phyug, 1584-1630). He spent the winter of 1731-1732 in Dege, participating in the proofreading of the edition starting in 1731, occasionally checking translations against the Sanskrit versions. In 1732 Tenpa Tsering requested that Situ Paṇchen compose a table of contents for the edition. This reflects the fact that Situ Paṇchen's status by this point was higher than that of the Ngor chaplain Tashi Lhundrub, who was the primary supervisor of the project.
The Sakya Kambum (sa skya bka' 'bum), a compilation of teachings of Sakya patriarchs in 15 volumes followed the Kangyur. The carving of the Tengyur (bsang 'gyur), the translations of commentaries, started in 1737, a year before Tenpa Tsering's death, and was the 214 volumes were completed in 1744 by his sons Lodro Gyatso (blo gros rgya mtsho, 1722-1774) and Puntsok Tenpa (pun tshogs bstan pa, d. 1751), both of whom sat on the thone of Dege. There was another son named Sonam Gonpo (bsod nams mgon po, d. 1761).
Tenpa Tsering had at least one queen, Tsewang Tso (tshe dbang mtsho, d. 1737), Tenpa Tsering passed away in 1738, the earth-horse year twelfth sexagenary cycle, at the age of sixty-one.
Source: The Treasury of lives