32th descendant of Gyeltsen Bum lineage

This post has read 445 times.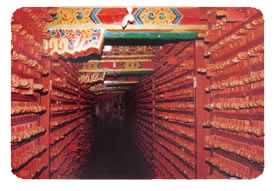 Gyeltsen Bum (rgyal mthan 'bum) was born in late fifteenth century in Dege (sde dge). He is counted as the head of the family in its thirty-second generation. His father was Botar Tashi Sengge (o thar bkra shis seng+ge, d.u.), the first king of Dege. He had a monk brother named Pelden Sengge (dpal ldan seng+ge), who was trained at Ngor Ewaṃ Choden (ngor e wa+M chos ldan) in Tsang, under the guidance of numerous masters, includingLhachok Sengge (lha mchog seng+ge,1468-1535), the ninth abbot of Ngor. Pelden Sengge is said to have founded a monastic institution named Nyin Gon (nyin dgon), possibly with the sponsorship of Gyeltsen Bum.
Gyeltsen Bum had four sons. The eldest, Ponchen A-nga (dpon chen A sn
Source: The Treasury of lives